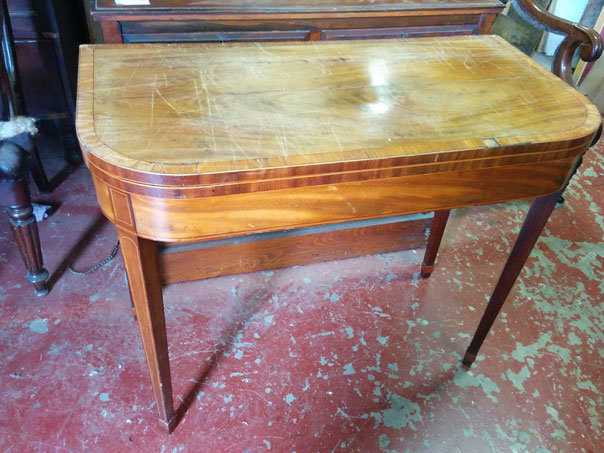 Fantastic! So my beautiful card table has finally arrived at my workshop in Kinsale, county Cork. It was described as Regency mahogany and satinwood crossbanded card table at the auction I got it from. Sometimes you can see them described as George III period tables. I would date this table at around 1810. These are not very rare examples and I see them on sale quite often, but they're very nice nevertheless. People buy them mostly to use as a lovely side tables these days but if you're keen card player you could use one as intended and have your poker game with the lads in style!
I bought the table at live online auction here in Ireland. I spotted it when the auction was already in progress so there was no time for condition reports, therefore I took a risk of buying it after just seeing not very good quality photo. Thankfully nobody was bidding against me so I didn't pay too much for it at the end, and I could afford to have it shipped to Cork. 
I expected the piece of furniture to have bits of veneer and stringing missing and that was exactly the case. I also expected the need of complete refinishing ie French polishing. Thankfully the structure of the table is sound and the back legs swing quite well to support unfolded top, considering its age of 200 years. (I won't be swinging much when I'm 200, that's for sure.) There's also a split in veneer across the top of the table. You can see those quite often on antique furniture as a result of groundwork, which most of the time is a cheaper secondary timber, splitting over the years and the veneer glued on top of it splits with it.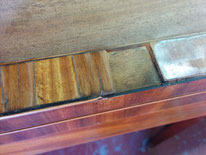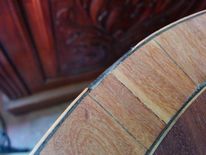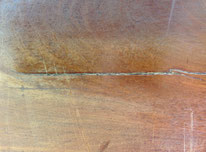 Apart from the small repairs, I'll have to get rid of those nasty scratches on top of the table which you can see on the first photo.
I'm not a big fan of sanding old, patinated wood on antique furniture but this time I feel it's my only option as these scratches are deep and look quite recent - probably result of inappropriate storage or transportation. They definitely don't add any character to the table. Thankfully veneers used on antique furniture from that period were quite thick as opposed to today's paper thin ones, so I should be able to remove the scratches by sanding, without the risk of going through to the groundwork. I'll be as gentle as possible - promise. Oh, and before I proceed with the sanding I'll replace the small, missing bits and fill the split.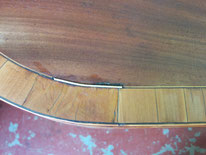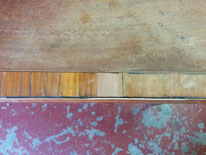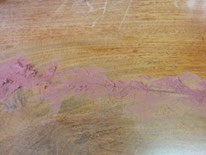 Don't laugh! These repairs won't be that obvious after they're sanded, coloured and polished.
Now, let's do the sanding. I'm gonna use 180, 240 and 320 grit sandpapers.
OK, so the scratches are gone and we have a nice smooth surface ready to be French polished, but it's not all rosy yet. To view the colour of the finished wood (without finishing) we can give it a wash with methylated spirits. As you can see above, our top is now rich, reddish brown, which is the colour of freshly sanded mahogany. It is a beautiful colour in its own right but now it clashes too much with the rest of the table which has a lovely old patina. So what do we do now? Someone might say: "What's the problem? Let's sand the rest of the table so it matches the top!" My answer is - no. I already feel bad about having to sand the top and I'm not coming near this piece of the furniture with a sandpaper in my hand for the rest of the job. As an antique furniture restorer I have to look for this perfect balance between restoration and conservation all the time. I want to keep as much of the original look of the piece as possible, while making it look as it was well cared for at the same time. 
So what other option there is? I'm gonna try to bleach the top a little. I'm going to use an oxalic acid solution for this job. I can't stress hard enough how important it is to wear protective gloves, mask and glasses while handling the acid! 
I'll moisten the top with it and wait until it dries. 
Now that's much better! The color of the top is now more orange than red and matching the rest of the table quite nicely.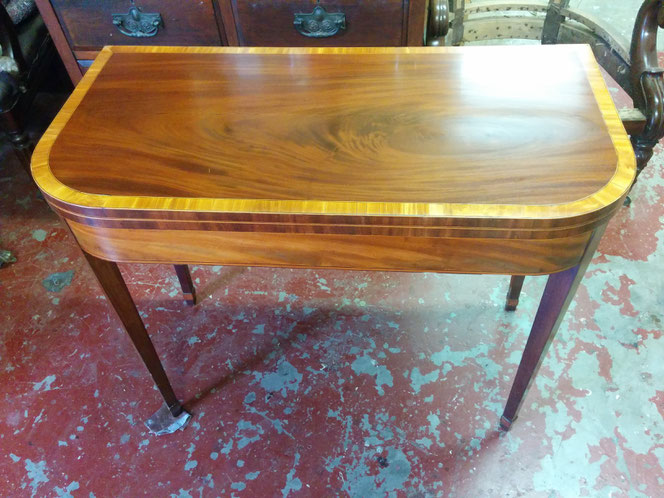 I'm happy with the result. I can proceed now with French polishing of the whole table. 
After all the repairs done and couple of sessions of French polishing the table is back in its glory and in a good company too :)